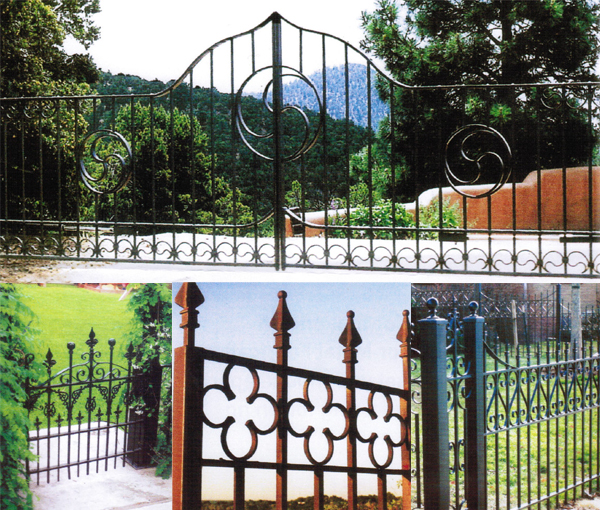 Here at True Blue Trailers and Gates, we can create beautiful wrought iron gates, doors and wrought iron fences to match any design that you can imagine.
For more than 30 years, Denis at True Blue Trailers and Gates has designed, built and installed fine quality, custom entry gates, wrought iron fences and garden gates in and around the Central West region of NSW .
Wrought Iron Gates
The wrought iron gates and fences are produced at our workshop in Bathurst and they are made from high quality wrought iron or aluminum. We custom design and make an outstanding and diverse array of gates from the simplest to the most intricate design, style, and shape. Whatever the design you choose, you will always get the highest quality gates and fences that will complement any architectural style, adding beauty to your home or business. We manufacture garden gates, single or double entry gates, and driveway gates. Let us design an entire wrought iron look for your property or simply bring your own drawings, sketches, or pictures.
Driveway Gates
Let Denis at True Blue Trailers and Gates create a stunning driveway gate for your home or business or bring in your own drawings or pictures to discuss them with him.
Wrought Iron Fence
We are able to create entire wrought iron fences in a design of your choice. We are also able to match in with an existing design. We are able to manufacture and install a wide variety of fence styles for all of your wrought iron fencing needs. We can customise your fence from scratch through hand forging and fabrication in our facility. An ornamental iron fence serves two purposes. It offers a clear border for your property line and the beauty of wrought iron without abstructing your view. We can design a variety of styles or you can design your own. The look of your outdoor landscaping with ornamental iron fencing, will bring class and elegance to your property.
Wrought Iron Doors
True Blue Trailers and Gates can create a bespoke wrought iron door to make your entrance come alive. We can help you design your wrought iron door or you can bring in a picture of something you've seen before.